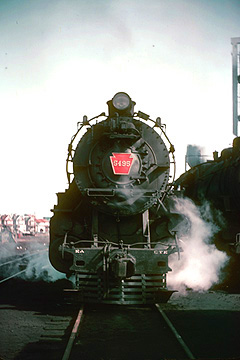 Photo of the Week
Location:Harrisburg, PA
Description:
The depot switcher will change out cars in the ter...
(more)
Latest Update
Pennsy memories in color...
GodFatherRails
Now with 1863 photos online!
Welcome to the online home for the amazing railroad photojournalism of John Dziobko, Jr.
John took his first black and white photos in July 1948. By July 1950 he was shooting his first Kodachrome transparencies, and 2013 marked his 65th year of active railroad photography!
In those years, he has traveled the globe in search of vanishing steam locomotives and their colorful replacements. His beloved film is a thing of the past as are many of the rails and trains he once photographed. The images live on here.
Now in his 80's, John would like to share his photos with you and thanks you for your interest in his life's work. He asks you to be patient, it may take a while for his friends to process his collection, estimated at nearly a half-million slides..
Most recent photos added...
Mailing List