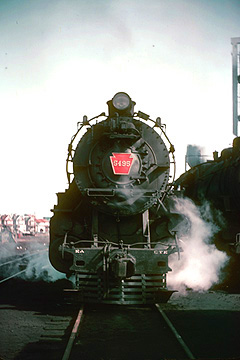 Location:Calimus siding, OR
Description: North of Chiloquin climbing the Cascades...
Latest Update
American Freedom Train on the last lap of its tour returns to Portland via the SP Cascade sub in the spring of 1977...
GodFatherRails
Now with 2002 photos online!
Welcome to the online home for the amazing railroad photojournalism of John Dziobko, Jr.
He took his first b&w photos in 1948, by July 1950 John was shooting his first Kodachrome slides.
He traveled the globe in search of vanishing steam locomotives and their colorful replacements. Those old images live on here.
Now in his 80's, John loves sharing his photos and thanks you for your interest in his life's work. He asks you to be patient, it may take a while for his friends to process his collection, estimated at nearly a half-million slides..
Most recent photos added...
Mailing List