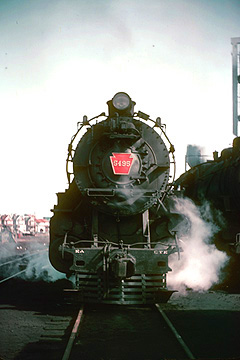 Photo of the Week

Location:Niagara Falls, ONT
Description: The Whirlpool Rapids bridge...
Latest Update
NS&T Part Two
GodFatherRails
Now with 1759 photos online!
Welcome to the online home for the railroad photojournalism of John Dziobko, Jr.
He took his first black and white photos in July 1948, and by July 1950 was shooting his first Kodachrome (ASA 10) transparencies.
Since then, John has traveled the globe in search of vanishing steam locomotives and their colorful replacements. His beloved Kodachrome may be a thing of the past, but he still gets out trackside.
Now 80 years young, John would like to share his photos with you and thanks you for your interest in his life's work. He reminds you to be patient, as it will take a while to scan and upload works from his "gold mine", estimated at nearly a half-million slides..
Most recent photos added...
Mailing List